Tired of the gray and white trend? While this color scheme still has some life in it, we're seeing new trends that are showing a shift in tastes.
Here are new ideas on how to use colors, patterns and textures to add a little more warmth to your Texas home interior. Read on for the latest trends.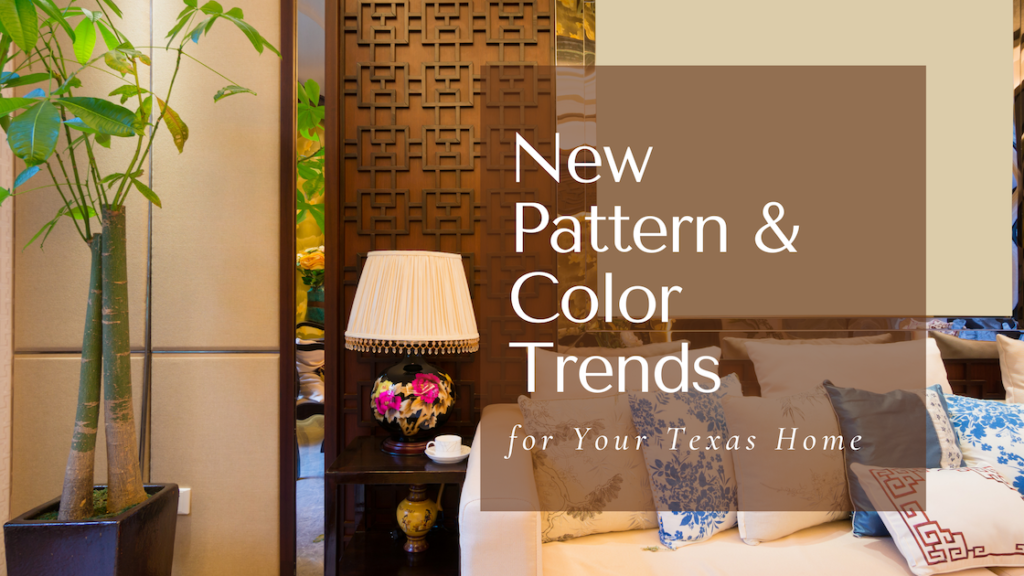 Dark Colors are Making a Comeback
Light and white décor is making way for dark, moody colors. This includes navy blues, dark greens and black. Black is an especially popular choice when it comes to hardware, fixtures, plumbing, window frames, doors and even home exteriors.
In the kitchen, for example, this can translate to a black island or dark bottom cabinets with contrasting uppers and black fixtures. In the living room, we're seeing dark colors on walls and sofas with wood floors ranging from middle to darker wood tones.
If you decide to go for a darker punch of color, think about how it will complement the flooring. You can have lighter or darker flooring, depending on the mood you're going for, as long as the colors complement each other.
Is Maximalism Your Style?
We've all heard of minimalism, but you might not have heard of Maximalism. As you can guess, it's the polar opposite in style. It features saturated colors with bold palettes and patterns. These all work together for an eclectic look with a touch of bohemian.
The idea is that layering patterns and colors with statement pieces will let your personality shine through. While Maximalism may seem too busy for some, for others it's a way to rejoice in a design that speaks of their passions and experiences.
With this style, layering and patterns can extend to flooring too. Lay Oriental or patterned rugs over wood or laminate flooring. Ceramic tile floors can also add richness with painted or artisanal designs and patterns. 
Bringing the Outdoors In
Bringing nature or the outdoors in isn't a new trend, but it's been growing even more popular. After the COVID pandemic, many felt the need to surround themselves with natural elements indoors.
This extends from plants, small trees and flowers to organic materials like wood furniture, wicker baskets, stone tabletops, and even grass-cloth wallpaper.
Hardwood floors or wood-look floors are a natural extension of this look. Use engineered hardwood, laminate or luxury vinyl plank to add warmth. Carpet with natural fibers, like seagrass, jute or sisal are eco-friendly as well. 
Statement Walls with Personality
If you've never been a fan of wallpaper or bold walls, now might be the time to reconsider. Shiplap is out, while jewel-toned paint colors and patterned wallpapers are in. They're making a statement in bedrooms, bathrooms, living rooms and, really, all rooms in a big way.
Imagine a board-and-batten wall in the bedroom, framing the bed with rich color and texture. Think of modern siding or patterned "grannychic" wallpaper in the dining room or a bold pop of color in the living room, with a statement wall of dark blue behind the sofa.
These statements aren't only in paint or wood either. Many homes now feature tile with a rustic design or bold pattern on kitchen and bathroom walls as well. It's a trend that shows a big move away from minimalist design to more eclectic mixes and finishes.
If you want flooring to serve as a neutral backdrop for these areas, we recommend wood-look flooring (hardwood, engineered wood or laminate) or stone tile.  For more color or texture, we like carpet, ceramic or porcelain tile or luxury vinyl planks.
Brass, Gold or Yellow Accents
If walls of bright color sound like too much, the trend of gold or bright accents is for you. It's one way to add color without committing to a major change. This could be anything from gold or brass hardware or fixtures to adding one piece of furniture, pillows or décor in a brighter color.
In fact, Pantone's Color of the Year for 2021 is Illuminating, a bright-hued yellow, paired with Ultimate Gray. These colors are described as having "deeper feelings of thoughtfulness with the promise of something sunny and friendly."
Brighter colors seem to fit the mood this year, along with other trends of bold patterns and natural materials. In all of these trends there's a common thread: we're designing our homes to make a statement about our personalities and passions.
And maybe we're also working our way to what the Wall Street Journal calls the ultimate design trend of 2021: "Rooms That Let You Entertain Again."
Do you agree? Let us know in the comments or send us an email.