Buying or renovating your home? When it's time to choose flooring, one of the first questions is often about color. Which color flooring will look best?
After all, flooring serves as a backdrop and helps set the tone for your décor. Whether you're going for minimalism, Mid Century Modern or more traditional design, flooring can add to the feel of comfort or luxury you desire.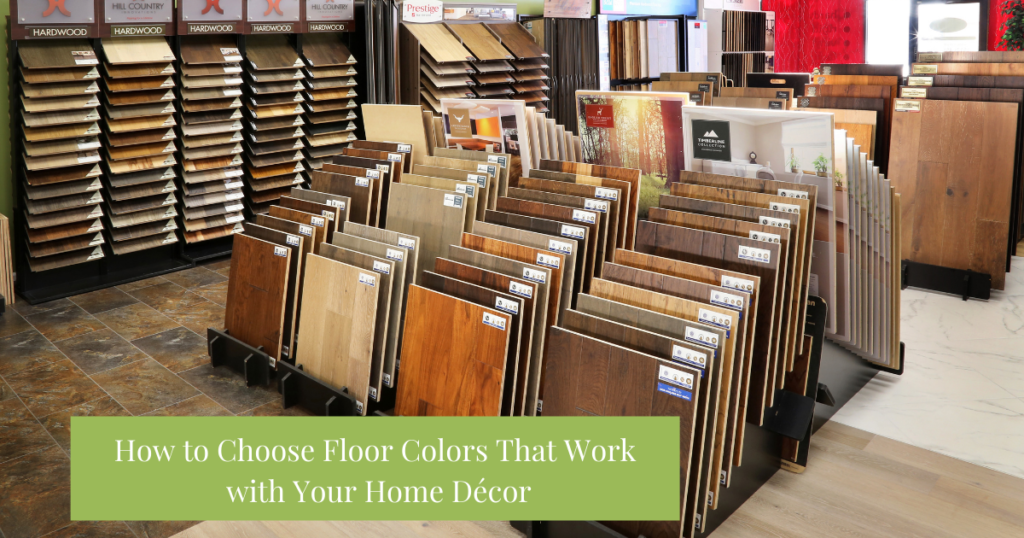 What to consider first
Your design theme isn't the only factor when choosing a color.
Here are a few things to consider:
Whether you have kids or a big family
Any pets you may have
Your budget
Your location, i.e., Austin, Texas or elsewhere
Your style preferences
Your preference for care and maintenance
How long you're planning to live in the home
Type of home
Obviously, there are many variables. Too many to offer a set answer on which colors would work, especially when personal style or preference comes into play. Only you can decide which variables are most important to you.
Choose flooring type before color
Many clients come in with their minds set on a certain type of flooring. The main challenge is choosing a color within that type. This is especially true for hardwood or wood-look flooring.
If you're not sure what type of flooring would work best, see our articles on low-maintenance floors for Texas homes and which wood-look flooring is best for homes in Texas.
Otherwise, read on for our suggestions on how to choose colors for each type of flooring.
Hardwood, Vinyl or Wood-Look Flooring
"What color flooring would look best with my kitchen cabinets?"
"Should I go dark or light if I'm using one flooring throughout the house?"
These are just a few of the questions clients ask, especially when buying hardwood, engineered hardwood or luxury vinyl tile.
First, your flooring shouldn't match your wood furniture or kitchen cabinets exactly. That would leave you with a very monotone look.
The real question is do you want your flooring to compliment or contrast with your furniture and decor?
Complimentary colors are within 2 or 3 shades of each other, while contrasting colors are on the opposite ends of the color wheel or are more dramatic variations of color.
This choice can be easier to make in the living room, for example. If your furniture and décor are within a certain color range, you might want your flooring to be a neutral backdrop. In that case, it's often best to go with a lighter or mid-tone (natural) shade of wood.
If your furniture and décor are mostly in whites and lighter tones, you can go either way: use complimentary flooring in lighter wood or have the flooring stand out in a darker or contrasting tone.
In the kitchen, you can also choose complimentary or contrasting tones. The white kitchens that are popular today can work with any color, but most homeowners prefer lighter tones or natural wood colors to keep a light, airy feel. If you have wood-colored cabinets, you might want to consider a contrasting floor (darker with light cabinets or lighter floors with dark cabinets).
Visually, darker floors make a room look a little smaller or cozier, while lighter floors expand the space a bit.
Keep in mind the practicalities of cleaning too. Lighter wood floors show less dust and dirt but will show up stains more easily. Dark wood will hide stains but may show dust and scratches from pets. Choose a satin finish to hide marks and for easier maintenance.
Tile Flooring
If you want a hardier surface, tile is your next best pick. Although there is a wide range of colors available, many homeowners choose lighter, neutral tones since tile lasts for many years.
Otherwise, the same idea of choosing a color to compliment or contrast with your existing décor works for tile as well.
Don't be afraid to add a little drama or personality as well, with colored tile, patterned tile or interesting layouts, even if only in smaller rooms like bathrooms or bedrooms.
There are shapes like tile planks or squares; patterns like chevron, herringbone, offset or others; and even printed tile for bathrooms or kitchens.
Again, keep in mind that darker colors or patterns will hide dirt better. Grout in matching or darker tones will also be easier to maintain.
Carpet Flooring
Since carpet has one of the widest ranges of color available, you have unlimited options to choose from. You can take a cue from your furniture and use a neutral background color or you can match accents in the room, like drapes or accent colors in your décor.
You can also choose to suit the mood: a darker carpet can make the room feel cozy or can add drama, while a lighter shade can open it up for a bigger and brighter feel.
Care and upkeep also should carry more weight in your decision when it comes to carpet. Do you have a large family or a busy home? Plan to vacuum often or only once a week or two? If you're trying to keep a carpet clean in a busy home, we recommend using mid-tones or darker colors.
Send an email or call us at (512) 458-4900.